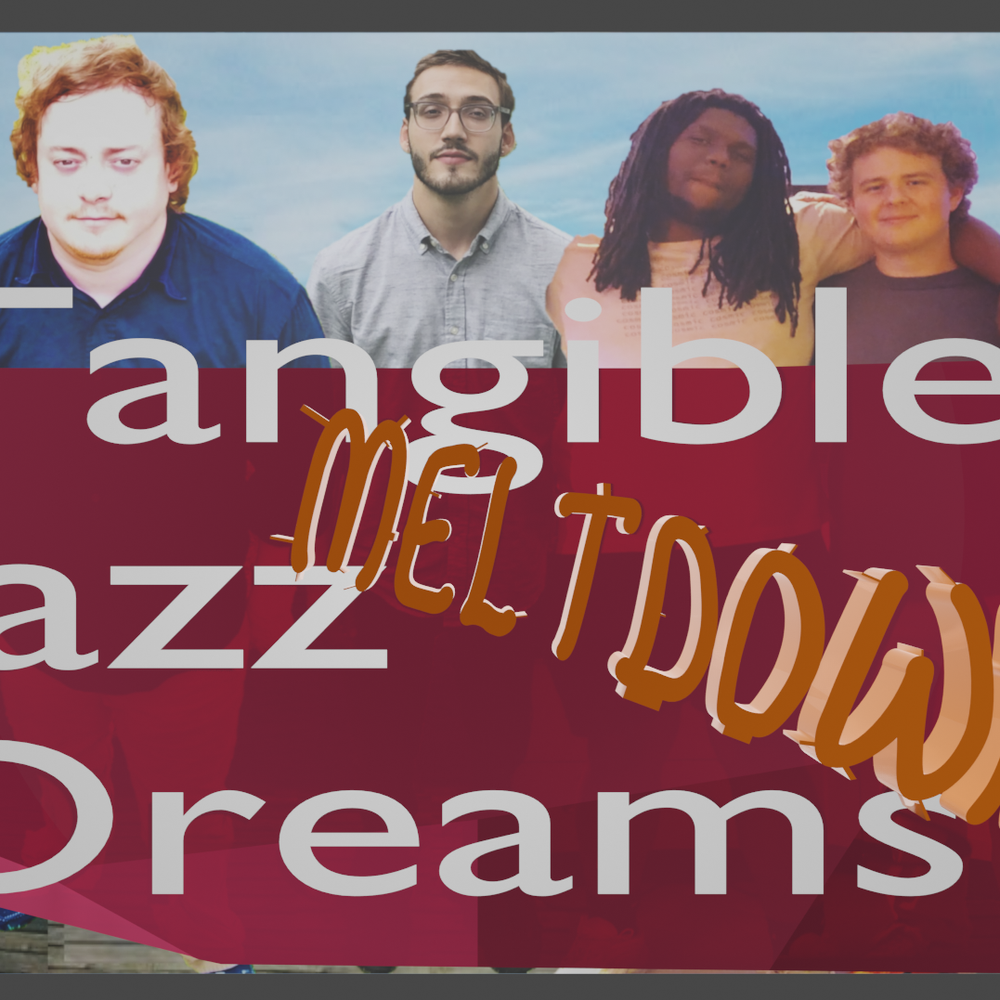 Painting Time in as many time signatures as we can
The Music of TJD
Brief Bio
Our goals; provide Jazz fusion music that helps people learn what it means to be human and bring new listeners into the broad genre of Jazz. When we bring people from different communities together or when someone discovers one of our many heroes in Jazz throughout history from our music, that's when our dream becomes tangible.
Our music is a combination of hard hitting grooves, memorable melodies, and a wizard's touch of free Jazz. TJD is comprised of Clark Hodges an Atlanta native whom met the other band members while playing saxophone at MTSU and composed the songs on our debut album 'Metldown', also is featured on keyboard on the album. Joshua Cook is a Cincinnati native who plays drums and auxiliary percussion, Sam Glover is a Knoxville native on electric guitar, and Jackson Mayhall from Flower Mound Texas on electric bass. 
The band met under Matt Endahl's direction at MTSU in the Fall of 2020, and since their debut album in March of 2022 have recieved critical acclaim including placements by Spotify editors in their playlists 'All New Jazz' and 'Fusion Fest'.
Some more in depth info about us
Our life and goals
'Meltdown' was recorded in a metro Atlanta, GA studio Edgewater Records on July 5th and 6th 2021 over the course of 18 hours over the two days; just 10 months prior to this, the band members were introduced to each other for the first time at a University.
Our goal is to provide fun, interesting, and melodic Jazz fusion music that helps any and everyone learn more of what it means to be human.
The coincidences stated here of our bands formation are just the tip of the iceberg of all of the by chance coincidences that led to this incredible album of original music.
Clark Hodges on tenor saxophone from the metro Atlanta area began music lessons on piano at the early age of 5 and was privileged to yearly season tickets the Atlanta Symphony Orchestra, which combined for an early and deep appreciation of an expansive range of Classical music. Having played saxophone for several years, Clark was deeply impacted spiritually by his introduction to Jazz from a friend early in his high school years. This led to a systematic and obsessive study into Jazz; from listening to every Jazz record mentioned to Clark, to traveling the states from Texas to New York seeking instruction from those who understood what Clark did not at the time. 15 years later and Clark is improvising, and composing the music BIG and Tangible dreams are made of within all of our favorite genres.
Joshua Cook on drums was born in Ohio, and was very impassioned by Hard Bop growing as a Jazz drum kit player in the Cincinnati Jazz scene. Since moving to Tennessee, Josh has studied with a broad wealth of instructors in different genres from Classical music, to Jazz and Latin music; which has led to a masterful drum style with a deep groove pocket that gets everyone dancing, as well as orchestral drum fills and arrangements of songs that impress all who hear.
Jackson Mayhall a Texas native, is a very accomplished professional bassist in his young years. Just like Clark and Joshua, Jackson was also impassioned by the Hard bop subgenre within Jazz in his years leading up to his college studies. This led to his dual study of the electric and upright bass instruemnts, which he is now an active and contracted performer on both instruments nation wide within the United States; since graduating from college Jackson has been apart of musical residencies as a performer in Key West, FL, to Grand Rapids, Michigan.
Sam Glover known as the "Glove", is a young guitarist from Knoxville Tennessee. With a deep love for music and his instrument, over the 2020 United States shutdowns during the Covid-19 pandemic, Sam was inspired to practice his instrument for self enjoyment as well as check out Jazz fusion guitarists. Little did he know that the lessons he learned watching concerts of John Abercrombie, George Benson, and Pat Metheny did he know he was going to be using these less than 12 months later in a professional studio in Atlanta. En Français and in English Sam is committed to celebrative life.